I was born with cerebral palsy but has never let my physical disability prevent my from doing what I loved and making an array of stunning achievements. From excelling in the academic world to undertaking all manner of sporting and outdoors adventures.
My enthusiasm for exploring the outdoors started in my youth with canoeing, camping and hillwalking expeditions with my family and the Scouts. This developed into paddling race canoes, being a Scout leader and, most notably, a passion for Munro-bagging (the practice of climbing mountains in Scotland over 3000 feet high), which saw me conquer 30 peaks during her university days.
While my sporting prowess also includes skiing, road cycling is her particular passion. Through my strength of mind and remarkable tenacity, I earned a trial for the British Paralympic team, competed in para-cycling races and is a regular rider out on the roads of Edinburgh.
Academically, I smashed through barriers and expectations in a similarly impression fashion. Despite being labelled a slow learner in school (at one point being put into a class for children with a learning disability) and leaving school at 16, I have attained extensive academic success.
Through remedial teaching, I acquired the necessary A Levels to earn a university place and her CV now boasts a BSc honours degree in Biotechnology, and an MSc in Cell and Molecular Biology.
Below are an example of what I have achieved!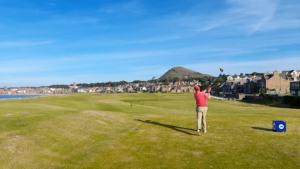 I got my first golf club at a very young age, around 5 I think. Hardly able to walk in these days, my balance was really poor.  Someone had the idea of cutting down a golf club for me and hoped that if I practiced swinging it, it would help me to balance.  I started swinging it and it was the start of a life long love of golf.  I played through my childhood and got my first junior season tickets on Haddington Golf Club. I had a long gap in my golf while I was a student but have recently found a home a Longniddry Golf Club in East Lothian where I feel very welcome. I've never been good at golf or able to play it very well, I still find it phenomenally difficult. I love trying to play and being around golf, I think its a beautiful sport. I feel very lucky to be able to play my golf on the East Lothian Coast, there is nowhere else in the world I'd rather play.
I have been cycling all my life but took up cycling as a sport over 10 years ago. I began cycling with a local cycle touring club called CTC who were very supportive and encouraging towards me. After cycling CTC for a couple of years, I was as determined as ever to take my cycling to another level. I joined Edinburgh Road Club or ERC. Again I found some very supportive and friendly people who really encouraged me to work at my cycling. I continue to enjoy my cycling and have ambitions to do some charity runs and sportives. I want to uses my experience of cycling to inspire others to push themselves further and achieve more than they imagined for themselves.
I have always enjoyed the mountains after having spent a lot of his childhood in nature with family or with the Scouts. Whilst living in Dundee I joined the university Hill-walking Society where he made great friends with like minded people and he climbed around 30 Munros in Scotland. Walking at a slower pace could be a challenge, particularly over the winter months, but through determination and long days, I managed to scale many peaks.
At the age of around 30, a friend of mine was planning a day trip to Glenshee on his own and asked me to go with him to which I said 'no'. After a bit of persuading I eventually agreed to go on a day trip to the ski slopes with him and that was the start of my passion for skiing. I spent the day falling over and rolling around in the snow, but had so much fun if left me hungry for more.  It took me a very long time to get my balance on skis but I was absolutely determined to get there. I have been lucky enough by now to have made several trips to the French Alps and have made some wonderful friends out there. Skiing remains my passion and something I hope I can do for a very long time to come.